2022 Baja Whale Shark Tours
Swimming & Snorkel with Gentle Baja Whale Sharks
Baja whale shark tours and whale shark trip packages in the Sea of Cortez.
Midriff Islands, Sea of Cortez, Baja, Mexico
"One of the World's Best Places to See Whale Sharks"
New Worry-Free Booking and Cancellation Policy
Baja Airventures tours and ecolodge understands that there is a lot of uncertainty around your travel planning right now. That's why we giving you our new Worry-Free Booking and Cancellation Policy.
You may reschedule any new or existing reservation for any tour with us at no charge if there are any official health/travel government restrictions in place.
Call 619-421-2235 Today for an Amazing Bucket list Experience
Baja Whale Shark Tour Season
September – Beg. of November
Whale shark snorkeling season @ Las Animas Ecolodge is back and better then ever!  Guests typically see up close and swim with 3 – 8  gentle giant whale sharks every outing. If you have dreamed of a chance to swim with whale sharks, ever marveled at their overwhelming size and beauty – then Baja Airventure's new "Best of Baja's Whale Sharks, Dolphins & Sea Lions" trip is entirely what you've been waiting for! There is no other soft eco-adventure trip this close to the United States ( San Diego gateway), that is more exotic, quick, safe and easy. No airports. No crowds. Your fun and  safety is our #1 priority always!
Swimming with Baja Whale Sharks Video
BAJA AIRVENTURE PACKAGES INCLUDE:
Round Trip Private Carriage from San Diego
All Land & Boat Transfers in Baja
Private Beachside "Glamping" Yurts
Delicious Meals (Vegan/Vegetarian Too)
All Beverages, Including Alcohol
Daily Guided Excursions
Free Use of All Sporting Gear
Small Groups (8-16)
Mexican Cultural Immersion
Whale sharks are rare, elusive and magnificent creatures. There are only four places on the planet whale sharks make predictable appearances at certain times of year. The Midriff Island region of the Sea of Cortez in Baja California, Mexico is one of those 4 spots and closest to the US. Your 6-day whale shark tour trip will use our Eco-friendly Las Animas Wilderness EcoLodge, as its base. This Tripadvisor "Hall of Fame" award-winning ecolodge is a boat-in only, multi–sport, all-inclusive, soft eco-adventure "Glamping" experience located in the heart of the Midriff Islands, which is near the feeding grounds for the elusive whale shark. We utilize our own private carriage to transport you from San Diego, California to the whale shark tours feeding grounds in just a few hours.
Got questions about experiencing Baja whale sharks? 
No other Baja tour operator can offer you as much time spent on the ground and such little time traveling, because no other Baja whale shark tour operator has their own private carriage. We will brief you on your upcoming activities on the first day, including protocol and the safety procedures for swimming with these gentle giants. Baja AirVentures is  fully licensed and permitted by the Mexican government (SEMARNAT) to run the whale shark trips, ecotourism and birdwatching trips in this region of the Sea of Cortez.
Famous Marine Biologist Shares Why She Loves Baja Whale Sharks Trips With Baja AirVentures
What is a Typical Day Like on our "Best of Baja Whale Sharks, Dolphins and Sea Lions Tour?
Your days will be filled with snorkeling with Whale Sharks, cruising isolated islands and coves looking for the up to 10 species of whales that frequent these waters – including fin and blue whales, dolphins, sea turtles, and manta rays. The daily whale shark tour schedules are known to vary depending on what it is the whale sharks are doing, and when they wish to swim with us. Average summertime water clarity ranges from 35′ – 60′ or deeper while water temperatures hover between 78F – 80F. The region enjoys a cooler micro-climate with daytime temps up to 95F and evenings a pleasant 76 – 78F.
Whale Shark Tours – Private Experience
Stay in our private

wilderness Ecolodge

all to yourself, not a mega Tourism Destination
2 to 1 guest to staff ratio
Very small whale shark tour groups with whales practically to yourself (16 max)
Pristine wilderness all to yourself compared to developed resorts with 1000's of people
Very small whale shark tour groups.
Baja "Glamping" unlike any other.
More Time with the Whale Sharks
Less travel time. Closest whale sharks to North America.
Have the whales all to yourself
3 hours or more with whale sharks daily compared to 2 hours or less with other whale shark tours.
Value for your Time
San Diego gateway city. Get to the whales in less than 7 hours
4 days of snorkeling with whale shark
So many things one can do in addition to the whale shark tour and all included in one price
Includes access to all the toys: saving you hundreds of dollars
No need to go out for every meal. Great meals all included right at Las Animas Ecolodge
No need to travel to each activity, everything at your private beach
Additional Excursions Included – no extra charge Includes:
Snorkeling with sea lions, exploring offshore Islands, whale watching including blue and fin back whales, Bird watching, dolphins and more. No reservations required: choose what you want to do or join or daily adventures.
2022 Baja Whale Sharks Tours
Dates & Price
6-day All-inclusive:  $3,495
August Whale Shark Trips
| | |
| --- | --- |
| | |
| | |
| Aug. 23 – Aug. 28 | Sold Out |
| | |
| --- | --- |
| Aug. 28 – Sept. 5 | Sold Out |
September
| | |
| --- | --- |
| Sept. 7 – Sept. 12 | Sold Out |
| Sept. 13 – Sept. 19 | Sold Out |
| Sept. 19 – Sept. 25 | Sold Out |
| | |
| --- | --- |
| Sept. 25 – Oct. 1 |  Sold out |
Oct. – Nov.
| | |
| --- | --- |
| Oct. 4 – Oct. 9 | Sold Out |
| Oct.  11 – Oct. 17 | Sold Out |
| Oct.  17 – Oct. 23 | Sold Out |
| Oct. 24 – Oct. 29 | 4 Open |
| Nov. 1 – Nov. 7 | Sold Out |
| | |
| --- | --- |
| Nov. 7 – Nov. 12 | Sold Out |
7-day trips depart @ 5:30 AM PST and return @ aprox. 7:00 PM PST
Custom and longer trips available
*Please add 13% Mexican government IVA & 3% National Park Tax*
No bookings and departure dates are confirmed without signed advance reservation form and paid deposits.
Date change requests are ONLY valid with mutual written agreement.  Date change fee may apply.
Baja Whale Shark Tours based from #1 Tripadvisor Award Winning Las Animas Wilderness Ecolodge Baja Whale Shark Tour Swimming All Inclusive Itinerary:
Day 1
Meet at Brown Field @ 5:30AM. Short drive from from San Diego to Mexicali, MX to clear customs. Followed by a scenic drive along the Sea of Cortez and amazing Sonoran Desert. Transfer to our boats for beautiful ride with a chance to see whales, dolphins and sea lions on the way to Las Animas Wilderness Ecolodge. The fun continues. Evenings are filled with fantastic food, a campfire at the beach, star filled skies, fun, tranquility and solitude. (L, D)
Day 2 - 5
Your mornings will be spent on our whale shark tours, searching for and swimming with Whale Sharks with the help of local fisherman's radio reports or our boat. Depending on what nature is doing, we may also swim with sea lions, spot some whales or large pods of dolphins.
After AM whale shark snorkeling we return to Las Animas Ecolodge for a delicious fresh lunch. Your afternoons give you lots of opportunities for more fun and sport at no cost. This includes: snorkel with the nearby sea lions, world-class sea kayaking, incredible hiking, fishing, birding, off-shore islands exploration by boat, sailing, birding, finding your own private cover with no one around, and simply relaxing in your private hammock taking in the peace and serenity of this true untouched wilderness area.
Evening Happy hour, delicious dinner, starry nights with possible campfire. (B,L, D)
Day 6
Early morning breakfast, nature boat ride on the return boat trip. A scenic return to San Diego arriving approximately at 5:00 PM – 7PM .
Whale Shark (Rhiniodon Typus)
Whale sharks are the world's largest fish as well as the world's largest shark. They are harmless plankton eaters, and tend to feed close to the sea waters surface. They are known to reach lengths of up to18 meters (60ft) however average 12 meters (40ft) in length. This shark is easily identified due to its very distinctive pattern of white colored spots, its wide mouth and enormous size. Aside from their huge size, little is known about these creatures. Rarely seen in coastal shallow waters, these mammals are regular visitors to Midriff Island region near our Las Animas Ecolodge, Baja Mexico in the summer to fall months of July and September. They come to feed on the plankton of the nutrient rich waters surrounding Las Animas Wilderness lodge.
Marine Biological Profile Whale Sharks of Baja, Mexico
Baja animals demonstrate great tolerance and curiosity to our encounters. It is very important to keep in mind that we are seeking out wild animals in their environment. We ask you to bear in mind the need for caution and respect on our whale shark tours. Do not presume that we have any control over their actions or appearances whatsoever.
Baja Whale Sharks
Quick Answers to
Frequently Asked Questions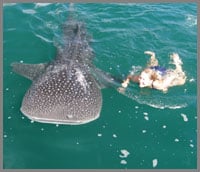 Enhance your Quality of Life
Call today to check availability (619)421-2235 This Could be your Dream Vacation bajaair@cox.net