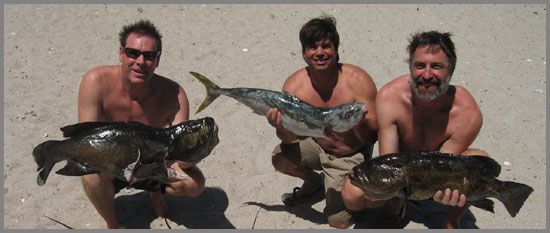 Baja Fishing Packages
Midriff Island Region, Sea of Cortez
World Class Baja Fishing: Light, Heavy & Fly Tackle with Local Guides
The Sea of Cortez is home to the Midriff Islands, which is considered to be a world class sport fishing location. Because we fly you directly to this remote area, you'll be able to spend less time traveling an more time fishing.
Best First Time Fishing Experience
Many our guests who go out fishing with us have never thought about Baja fishing before. They found that the entire experience was so much more than catching fish, the incredible scenery and wildlife encounters make for a truly memorable experience.
Baja Fishing in the Midriff is abundant and can be done year-round
You can expect to see leopard group and spotted gulf, cabrilla, yellowtail, bay bass, halibut, corvina, white sea bass, barracuda, sierrr, skipjack, roosterfish, giant squid and dorado in the summertime.
"The World's Best Fishing Hole"
If your goal is to get the Midriff Island for its world renowned fishing in less time, without any other tourists around, then you'll be happy that you chose to travel with us. You'll get a chance to experience a Baja Fishing adventure that's both exciting and has very small impact on the environment as a result of our selective catch and release process. Come fish with us and we will take you away from the crowds of Southern Baja, and allow you to experience what a Baja vacation is all about.
Baja Fishing Departures
We offer weekly departures for our Baja Fishing trips, which leave from Brown Field, San Diego County, CA.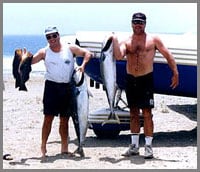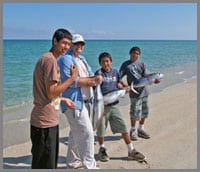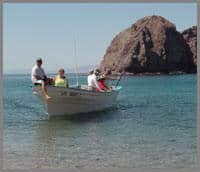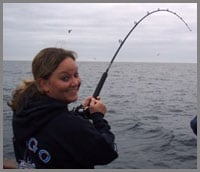 Baja Fishing The Sea of Cortez
All inclusive including:
Private air carriage to the Sea of Cortez from San Diego
Guided fishing trips with local captain
All fishing equipment
Year Round Availability
Call 800-221-9283 or 1-619-421-2235 or Email for availability if date you want not listed
LAS ANIMAS & MIDRIFF ISLAND REGION IN THE SEA OF CORTEZ
4 DAYS – $2195 –

ALL INCLUSIVE

6 DAYS – $2395 –

ALL INCLUSIVE
Year Round
Call 800-221-9283 for Availability
DUAL BAJA FLY-IN FISHING PACKAGE
6 DAYS – $2495 PER PERSON
3 NIGHTS MIDRIFF ISLAND REGION + 2 NIGHTS CEDROS ISLAND This price includes:
Round trip private air carriage to Bahia de Los Angeles
Fishing upon your arrival in the Midriff Island Region
3 nights Las Animas Eco-Lodge
Beer and Margaritas (at Las Animas)
All meals
Fishing gear
Private air carriage from Bahia de Los Angeles to Cedros Island
2 nights Cedros Island accommodations
Panga and boat captain
Cleaning, packing and freezing of fish
Flight from Cedros to Brown Field
English speaking guide