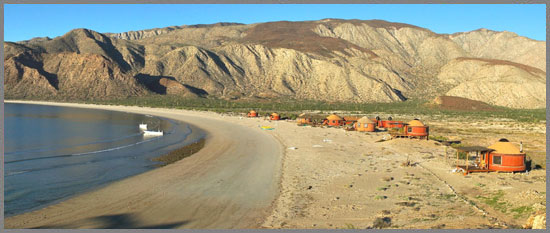 Las Animas EcoLodge
Baja Group Travel Destination
Year Round Soft Eco-Adventure Vacation Destination
Group Organizer & Incentive Travel
Sea of Cortez: Sea Kayaking in Baja Mexico Baja
Baja Whale Shark Tours & Baja Whale Watching Trips
#1 Specialty Lodging in Baja California


Kayaking • Snorkeling • Fishing • Sailing • Whale Watching Tours • Paddle Boarding
Couples • Families • Singles • Private Groups • Special Events
Special Discounts & Bonuses for Group Organizers
Dear Group Organizer: Here's your opportunity to offer your group something totally unique, private, and make a great profit too. This boat-in lodge will cater to your groups wanting a totally private and secluded, soft eco-adventure travel vacation. No other hotels. No noise. Just pristine Baja nature at its best. Las Animas Wilderness Ecolodge, accessible only by boat, is a one-of-a-kind, all-inclusive, multi-activity, year-round destination. It features 8 beachside "Yurts" with comfortable beds, attached bathroom, and solar showers. A large, central palapa serves as the dining, cantina, and social area. La Animas is perfect for small groups and retreats up to 16 people. Your clients will love it!
Check out this Cool Short Baja Nature & Las Animas Video
The Ultimate Baja Group Travel Destination Vacation
---
This amazing Baja ecolodge is less then 2 1/2 hours by private carriage direct to the Midriff Island region near Bahia de Los Angeles (Bay of the Angels), Baja, Mexico. Your group will dine on authentic Mexican cooking, fresh seafood and enjoy weeks worth of adventure in just a short trip! There is no other destination like it. Baja AirVentures Las Animas Eco Lodge provides all the toys, atmosphere, and gets you into the "unspoiled" Baja faster than anyone.
Baja Group Travel Destination Activities include:
Kayaking crystal clear coves
Snorkeling with sea lions
Whale watching
Bird and animal watching
Hiking & exploring
Stand up paddle boards
Tubing
Sailing
Swimming pristine clear waters
Horse shoes
Clam digging
World-class fishing
Star gazing
Total solitude
Romance
Just relaxing
Group Organizer Shares Comments from Their Private Las Animas Beach Wedding
Baja Group Trips & Lodging
Family Re-Unions
Retreats
Weddings
Honeymoons
Business Teambuilding
Girl Friend Adventure
Guy Adventures
Specialty trips
Private VIP Adventures
6-day Las Animas Trips Start at:
Depart Monday 7:00 AM Return Saturday 5:00 PM
Group Discounts/Profits with Baja AirVentures:
(Min. group size of 13, plus 1 group organizer)
A 12% discount / commission on each paid guest in your group*

*Special terms/conditions apply for "Best of Baja" Whale Watching trips. Call Kevin for details.
One group organizer for

FREE

for a minimum paid group size of 13. (a

$2,662 – $3,358

value)*

*NO Group Organizer leader discount for Best of Baja
In addition, most group leaders charge an additional fee to attendees to be a part of their private retreats/workshops and for value-added trainings and coaching.

Value added fees ranging from $300 to $1000 per person for a private VIP experience are not unusual. So this is not only a unique group destination, but a profitable one too.
All-inclusive four or six day Las Animas EcoLodge packages for 2023 start very competitively at only $2095.00 for four days & $2395.00 for six days. Whale Shark Snorkeling tours are $2995 for six days. 2023 "Best of Baja" whale watching trips are $3395 and have a different group organizer terms & conditions. All Baja group travel destination trips including R/T carriage from San Diego. Email or call Kevin at 800-221-9283 early to book your group trips.
Because we run such small, exclusive trips, we often fill up four – eight months in advance. A 20% deposit reserves your group's departure date.
I've been to Las Animas 3 times in three years and it just keeps getting better.
To know solitude is to enjoy freedom." Not sure who originally said that, but for me the title pretty much sums it up. I'm told "Las Animas" means "the Spirit" and for sure you can't help but feel "the Spirit" as you enjoy the beauty and solitude of the desert. Then to have the beauty and solitude of the desert merge with the rich diversity of the Sea of Cortez is truly memorable. The remoteness and relatively small size of the camp is what makes it so unique. The food is incredible and the margaritas and cervezas are always refreshing, unlimited, and free (non-alcoholic beverages are also available). The staff at Las Animas are truly wonderful people.
– 5-Star Tripadvisor Review – Top Contributor Heron48 Lemont, IL


Special Group Organizer Terms & Conditions and for Specific Dates & Trips
Whale shark trips: (last week of July – end of October), Thanksgiving and Christmas/ New Year holiday group blocking may not be available. Call Kevin for availability.
Group discounts apply for single payments from group organizer with check. If we process credit cards, 3.5% will be deducted from gross sales amount.
If we process the paper work for each booking in group, group leader discount will be 1/2 of the group leaders discount on their chosen trip.
Enhance your Quality of Life
Call today to check availability 800-221-9283
This Could be Your Baja Group Travel Destination Dream Vacation bajaair@cox.net
2023 Departures (Capacity: 16)
Las Animas Ecolodge 6-day All-inclusive Packages
Depart: San Diego on Monday @ 7AM
Return: San Diego on Saturday Aprox. 3PM
Las Animas Wilderness Ecolodge
Call for Availability if Date Not Listed Above 800-221-9283
The Sea of Cortez is one of my favorite travel destinations.
Las Animas offers an ideal way to experience its incomparable combination of desert terrain and abundant marine life. The perfect mix of being pampered and roughing it a bit was just right too - Matt Jaffe, Senior Writer Sunset Magazine