Best of Baja's Ecotourism & Soft Adventure Travel
Las Animas Ecolodge & Tours

Baja Airventures tours and Las Animas Wilderness Ecolodge understands that there is a lot of uncertainty around your travel planning right now. That's why we have announced our Baja AirVentures Tours Worry-Free Booking and Cancellation Policy.
You may reschedule any new or existing reservation to any tour with us at no charge if there are any official health/travel government restrictions in place. You will be able to use the full value of your non-refundable payments as a credit for a future trip provided you travel within 24 months of your original tour date. Travel voucher credit is even transferable.
Once an alternate trip is booked, it will be subject to standard cancellation policies from your original reservation agreement.

Frequently Asked Questions 
1:    Are you still operating your Ecolodge & trips?
At this time, we have no plans to cancel any of our Fall trips and beyond.  We will do everything in our power to ensure a successful trip and the amazing experience you hope to have.
At this time there is no indication that the National Parks, federal lands and / or private lands on which we operate will be closed. In addition, we do not anticipate any significant changes to how we operate our trips. To this end, we are working closely with multiple government agencies to continually educate ourselves and our guests, and will respond proactively and appropriately to every significant update.
2:   * What if, at the time of my departure, I am unable to travel due to an official government ban or restrictions imposed by federal, state or local agencies?
If an official travel ban has been issued that does not allow you to travel to or from your point of origin, Baja AirVentures will allow you to use the full value of your non-refundable payments as a credit for a future trip. Credits may be applied to any trip up to 24 months from your original trip date. Please note that no refunds for any unused portion of credit will be given. Once an alternate trip is booked, it will be subject to standard cancellation policies of your original reservation.
As you weigh the possibility of future flight restrictions, you may also want to consider the option of driving to our starting point in San Diego.
3: If I cancel or reschedule, will Baja AirVentures cover my pre and post-trip flight costs, rental car expense or hotel costs?
In the event of any cancellation or rescheduled trip, you will be responsible for cancellation or change fees related to pre or post-trip flights, rental cars, hotels, etc.
4:  What if I develop symptoms of COVID-19 while on my trip?
If a guide or guest develops flu-like symptoms during a trip, per CDC guidelines, we will socially distance the individual from the rest of the group, disinfect any suspected areas of contamination, and, where applicable, help support the evacuation of the individual as soon as possible.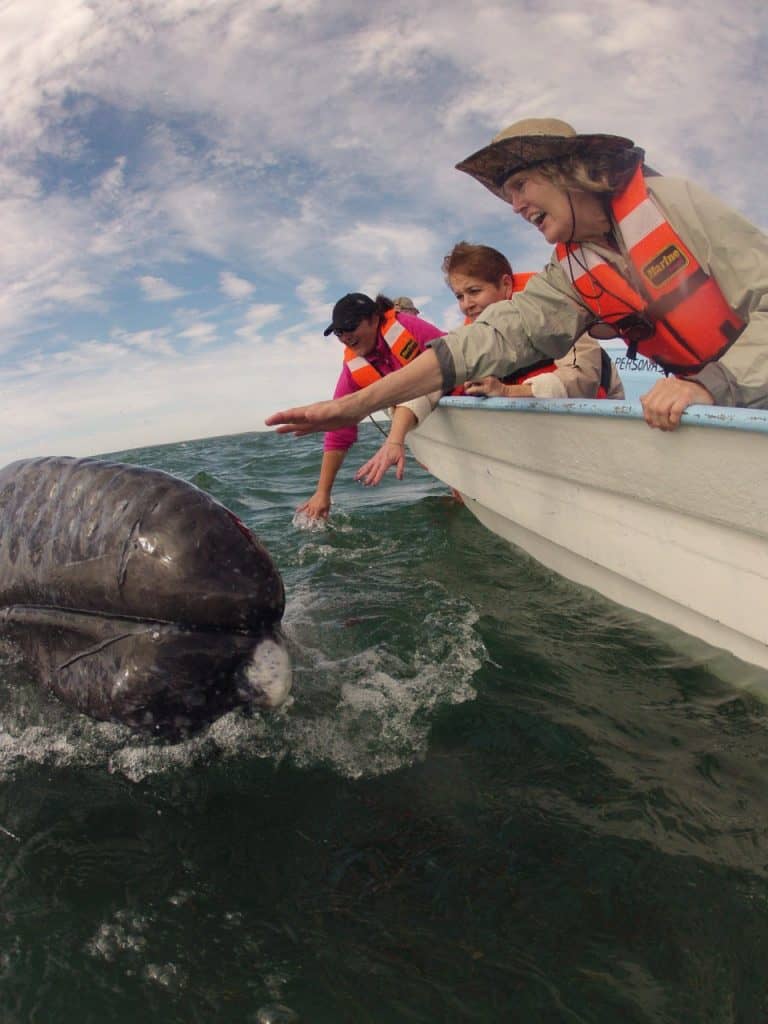 5:  What if Baja AirVentures cancels my trip?
We make every effort to run all our trips with your safety are #1 priority. For over 30 years we have an excellent trip departure and return record for 1,000's of happy guests. Mechanical and weather conditions cannot be programmed or guaranteed.  There will be no refunds, full or partial, or credit vouchers due to poor weather, mechanical delays,  except for government health/travel restrictions*.
6: What if I'm planning to make a new reservation with Baja AirVentures?
All policies stated here will also apply to new reservations for the 2020 season and beyond. You may always check availability of all our trips online or by calling us. Please don't hesitate to reach out to us if you have additional questions. Of course, as always, we recommend purchasing travel insurance. You may wish to consider the "cancel for any reason" policy.
We already have numerous 2020 whale shark trips booked from September – beginning of November along with many 2021 "Best of Baja Whale, Dolphins and Sea lions trips currently sold February – beginning of March.
Thank you for your support and trust. Baja AirVentures has been family owned and operated for 31 years. We consider our employees and our guests to be part of our extended family.  These are challenging circumstances, and like any family, we will endure this and any other challenge we face together. We're glad to have you with us!