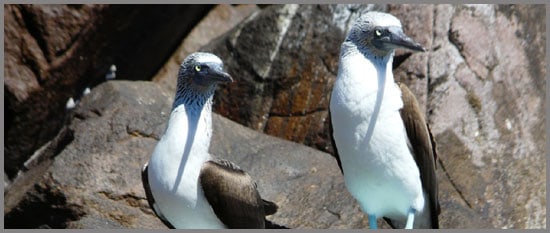 Animal Facts
Birds – The Midriff Islands provide an excellent area to view and experience the regions many seabirds. Also a result of the waters, as well as total isolation from human encroachment, three orders of marine birds covering arctic, temperate, and tropical origin are located here. The many islands are inhabited by more than 50 species including Blue Footed Boobies, Brown Pelicans, Royal Terns, Frigate Birds, Cormorants, Turkey Vultures and Osprey. Over 95% of the world's population of Heermans Gulls and Elegant Terns breed on nearby Rasa Island; a national bird sanctuary, found a short 15 miles journey from Las Animas by boat. These islands have recently become protected under Mexican law. Baja Travel & Vacations in Mexico contributes to the conservation of these unique and valuable habitats by practicing responsible tourism.
Whale Shark (Rhiniodon Typus)
Whale sharks are the world's largest fish as well as the world's largest shark. They are harmless plankton eaters, and tend to feed close to the sea waters surface. They are known to reach lengths of up to18 meters (60ft) however average 12 meters (40ft) in length. This shark is easily identified due to its very distinctive pattern of white colored spots, its wide mouth and enormous size. Aside from their huge size, little is known about these creatures. Rarely seen in coastal shallow waters, these mammals are regular visitors to Bahia de Los Angles, Baja Mexico in the summer to fall months of July and September. They come to feed on the plankton of the nutrient rich waters surrounding Las Animas Wilderness lodge.
Marine Biological Profile Whale Sharks of Baja, Mexico
Baja animals demonstrate great tolerance and curiosity to our encounters. It is very important to keep in mind that we are seeking out wild animals in their environment. We ask you to bear in mind the need for caution and respect. Do not presume that we have any control over their actions or appearances whatsoever.
Fish
The Sea of Cortez creates a habitat for more than 2000 marine invertebrate species, and ober 800 species of marine vertebrates. These creatures range in size from tiny gobies to white sharks and giant manta rays. Many of the colorful reef fish you'll come across while snorkeling, are tropical in nature and are reminiscent to what you'd find in the Caribbean.
The Midriff Island region is often referred to as one of the "greatest fishing holes in the world". Even our guests who come to us with little to no fishing experience, delight in the near "guaranteed catch" along the shores of Las Animas.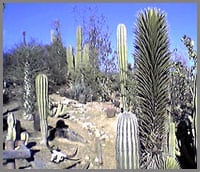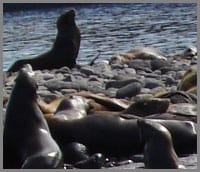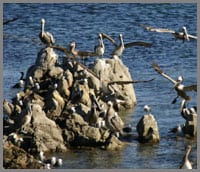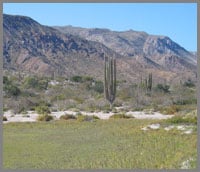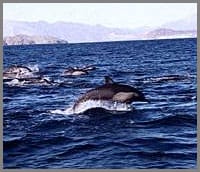 The varieties of fish located here include: cabrilla, giant squid, leopard grouper, spotted bay bass, white sea bass, sierra, yellowtail, halibut, lingcod, barracuda, corvina, in addition to the summer finds of rooster fish, dorado, marlin and sailfish. Baja AirVentures works entirely with experienced local sport fishing captains in order to create the safest and most memorable experience for our clients. Our experienced boat captain is a 3rd generation Mexican fisherman.
Baja AirVentures supports selective catch and release, meaning that we keep only what our guests may eat that same day.
Desert Plants
The stunning Sonoran Desert also offers a truly unique set of inhabitants. More than 20 cactus species thrive here, 70% of which are indigenous to Baja. In the desert along the coast, you'll also find Boojam and Elephant trees, Giant Cardon Cactus (more than 60 ft.) and Ironwood, all growing with forest like density near the retreat. Hard surfaces and open areas allow for easy to moderate hiking and prime observation opportunities.. Many newcomers to the Baja desert find the plants more prolific in color, variety, and density then they imagined. And in the scarce times of rain, the desert very quickly blooms with a vivid display of greenery and flowers.
"The website and brochures do not even come close to representing the real beauty of this area."
Comments from dozens of guests. Join us and find out for yourself!